Zaap TV HD809N Arabic TV With 2 Year Service
INCLUDING ARABIC KURDISH TURKISH and AFRICAN IPTV Channels
ZaapTV have been delivering quality Arabic Channels via the Internet without the need of a satellite dish for over 7 years and has proved to be a popular and reliable service.
The ZAAP HD809 Has now been replaced with the New ZAAP HD909 Receiver. See Below
The ZAAP TV HD809N offers hundreds of channels of free to air Arabic, Kurdish, Turkish, Persian and African entertainment in stunning high definition either on your TV with two years service included!
The new Quad Core processor in the ZaapTV HD809N™ paired with the Penta Core GPU excels at providing top performance and High-Quality Live Streaming content for your enjoyment!
Zaap TV's advanced technology powered by ZaapTV™ OS makes Zaap TV HD809N the best free to air ethnic TV device on the market. Designed with the big screen in mind. Experience the high quality of HD 1080P and 4K Ultra HD videos, movies and live TV in multiple languages.
To get the high-quality Smart TV experience just connect your TV with the Zaap TV HD809N device along with high-speed internet (Wifi or Ethernet) and your connected TV enjoyment will begin.
ZAAPTV™ DEVICES GUIDE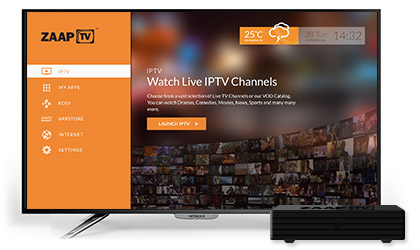 Watch ZaapTV™ on your ZaapTV™ IPTV Receivers.
Supports: HD409N, HD509N, HD509II, CLOODTV, HD609B, X, HD709N
Start your ZaapTV™ Set Top Box
Go to IPTV
Login with your credentials
Enjoy Live Channels!